Note: This program is not running full-time in 2009 (selected events only). Thanks for your interest and support since 2006! Kenny

At selected TrackDaz events, the overall WSMC Willow Springs Raceway Track Champion from 2005, Kenny Kopecky, will spend a day with just one to two riders per event in a special mentoring/coaching/training program. We are excited at this opportunity that only a few riders will have to learn more about riding, racing, training, tactics and techniques from this 21-time Willow Springs Class Champion. With over 24 years experience as an active roadracer, more than 130 expert class wins in multiple classes (incl. 500cc, 600cc, 750cc, Open, Twins and F-1), and over 450 top 3 finishes to his credit, Kopecky is one of the most experienced motorcycle road racers active in California. The program was highly succesful in while running full-time in 2006 and 2007, with riders consistently improving their confidence and abilities on the racetrack with Kennys' coaching.

What the riders who have ridden with Kenny said after their day...
What you'll get:
The WSMC Champion will ride each session exclusively with you in the appropriate *TrackDaz group throughout the event day. Many TrackDaz riders get over 200 miles of track time in during a full day!

One-on-one discussion sessions in air-conditioned motor-home with Kenny in between each on-track riding session.

Learn about the mental and physical preparation necessary to improve your track riding to a higher level, improve your race results, win trophies, win races, win class titles in club racing!

Learn about lines, race strategy, equipment preparation, and more in one day than in months of actual club race events!

Having trouble in your racing starts? Kenny is one of THE acknowledged hole-shot experts at Willow Springs. Learn from the best!

Want to improve your track day riding skills, learn about what it takes to start club racing, increase your speed or improve your chances to trophy in club level novice or expert roadracing? The day will be tailored to your desires to learn at any of these levels!

Use of Kennys' generator (for your tire-warmers or other electric needs).

Complimentary beverages and snacks included (water, Gatorade®, PowerBars®, PowerGels®...just like Kenny drinks and eats on race days)

Kenny will devote 100% attention to you from 8:00am to 5:00pm in the full-day program.

Half-day option of this program is available, please see below for schedule.
What you'll need:
Riders interested in this program should have some track day experience to receive the most benefit.

Competition licensing is not required. This program is geared towards racers and potential racers, but those looking to improve their track riding will benefit as well!

*Rider must sign-up WITH TrackDaZ in their appropriate experience level group, in advance as Track Daz generally sells out! Please go to www.trackdaz.com to check availability and for registration, bike prep requirements and more info on the TrackDaz program.

Rider must verify and confirm availability with Kenny and pay the Riding with the Champion fee directly to Kenny Kopecky. Contact Kenny by e-mail at ridewithwsmc1@kennykopecky.com

Rider must have their own bike that is in good condition, meeting all TrackDaz requirements.

Rider must provide their own fuel. Make sure your tires are in good shape...TrackDaz provides a ton of track time!

Rider must sign release of liability waivers at the track.

Rider needs to bring their own lunch, and any special hydration needs or drink favorites beyond the provided water and Gatorade®.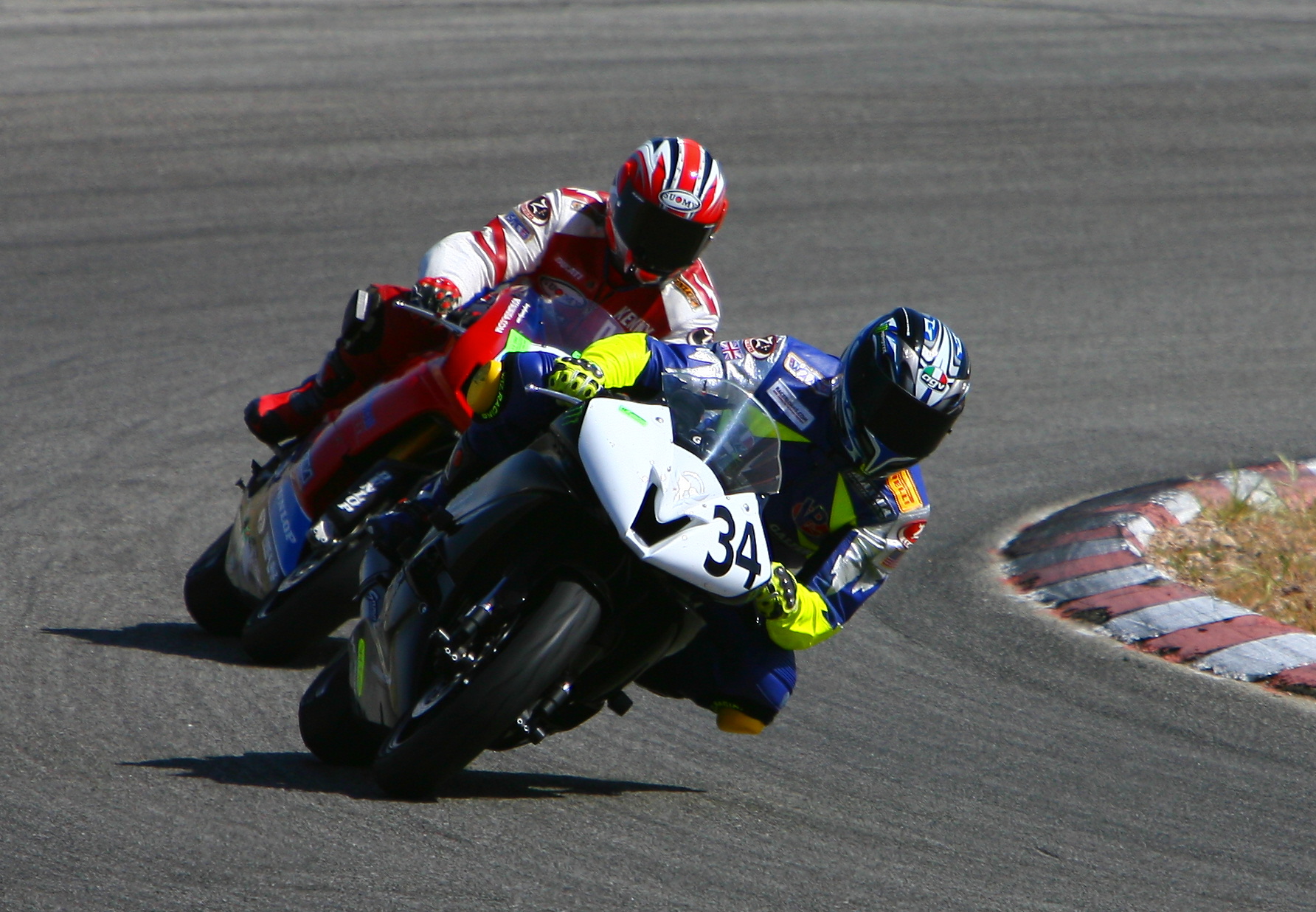 Kenny and Lloyd about to ride on May 8th at TrackDaz Kenny and Lloyd riding...TrackDaz, May 8, 2006
Why ride with Kenny?
He has been an Assistant Race School Instructor with A.R.R.A. and W.S.M.C. programs for over 15 years, working with hundreds of racers.

He organized the WSMC Advanced Racers Clinic in 2003, placing Curtis Adams as lead instructor and working directly in the program in 2003. He continued to make guest Instructor appearances in this program in 2005 and 2006.

He has raced in AMA Pro Superbike Nationals, including the Daytona 200 twice, Laguna Seca AMA Superbike twice, and more.

He has been on the 'podium' in National Championship Endurance races with both AMA and WERA.

He worked at 144 consecutive monthly events at Willow Springs, has raced there since his first roadrace start in 1982, and is intimately familiar with motorcycle roadracing.

He's well-known to many club racers over the years as someone who loves to see people enjoy the sport and have as much FUN as possible!

He enjoys sharing information, sharing experiences, and learning from and teaching others.

He is still winning WSMC races, and will share with you how and what he does to do so!
"I'm confident that a day with me at TrackDaz will be informative, entertaining, very helpful to your track riding and racing, and quite importantly great fun! I believe in learning throughout our lives. I'm still learning, and I hope you will join me soon and we can learn together at the racetrack! Thanks for your consideration, and please ride smart." Kenny Kopecky, April 2006
How much will Riding with the WSMC Champion cost?
The fee to spend a nine hour day working and riding with the WSMC Champion is $750 TrackDaz special: $550 for a limited time only. This fee is payable to Kenny Kopecky, and does not include your track day fee payable to TrackDaz.
The 2007 track dates for the
Kenny Kopecky / Ride with the Champion program at TrackDaz are:
Date
Racetrack
Current Availability?
Half-day avail?
Monday, February 5, 2007
Willow Springs
Reserved
No
Friday, March 9, 2007
Streets of Willow
Reserved
No
Monday, April 9, 2007
Willow Springs
Reserved
No
Monday, May 14, 2007
Willow Springs
Reserved
No
Monday, June 4, 2007
Streets of Willow
Reserved
No
Saturday, June 30, 2007
Buttonwillow
Reserved
No
Sunday, July 1, 2007
Buttonwillow
Reserved
No
Saturday, July 28, 2007
Willow Springs
Reserved
No
Sunday, July 29, 2007
Willow Springs
Reserved
No
Monday, November 5, 2007
Willow Springs
Reserved
No
Saturday, November 24, 2007
Willow Springs
Reserved
No
Sunday, November 25, 2007
Willow Springs
Reserved
No

Availability last updated: Tuesday, December 06, 2011 11:42:25 PM
Our program with TrackDaz will conclude after the Nov. 24-25 weekend, and there are no reservations available for 2008.


Thanks for your interest!
---
WSMC 2007 season: 26 sprint race starts - 24 wins, in seven different Expert classes!

WSMC 2006 roadrace season: 16 sprint race starts - 13 wins, in six different classes!

3 sprint race wins on Dec. 18, 2005 rounded out the highly successful 2005 WSMC season for Kenny, including 41 wins, 7 second place, 8 third place, 6 fourth and 2 fifth place race finishes, along with 4 class lap records.

Kenny with his Championship winning Ducati 999R-05
Kenny clinched 3 WSMC 2005 Expert Class Championships at the September 2005 race meet with three rounds remaining!
Kenny clinched 5 WSMC 2007 Streets of Willow Expert Class Championships at the November 2007 race meet!
Personal best lap time on Ducati 999R set in winning 750 Superbike in May 2005 is 1:22.473 / 109.127mph average!
Personal best lap time on Ducati 749R set in winning 650 Superbike in November 2005 is 1:24.322 / 106.734mph average!
Kenny currently holds Willow Springs Motorcycle Club Class Lap Records in:
BOTT Middleweight | 500 Singles (WSIR Main Track)
BOTT Lightweight | 500 Singles | 500 Super Stock (Streets of Willow)
Kenny has previously held class lap records in 750 Superbike (May '05 to Nov. '07 / Main Track)
BOTT Heavyweight (2005 to 2009), Formula Twins Heavyweight (2005 to 2009),
and Formula Singles (April 2007 / Streets).
TrackDaz Home Page | Kenny's Home Page
Links to Kopeckys' Racing Sponsors
Kennys' 2005-2006-2007 WSMC Race Results

Kenny Kopecky, left picture on Ducati 999R winning a Formula Twins race, and on right on 749R winng 650 Superbike in November 2005 at WSMC.
Kenny is sponsored by Ducati Moto Forza, Ducati North America, Dunlop Tires, TrackDaZ, Suomy USA helmets, and Z Custom Leathers.
Thank you for your interest in our program!